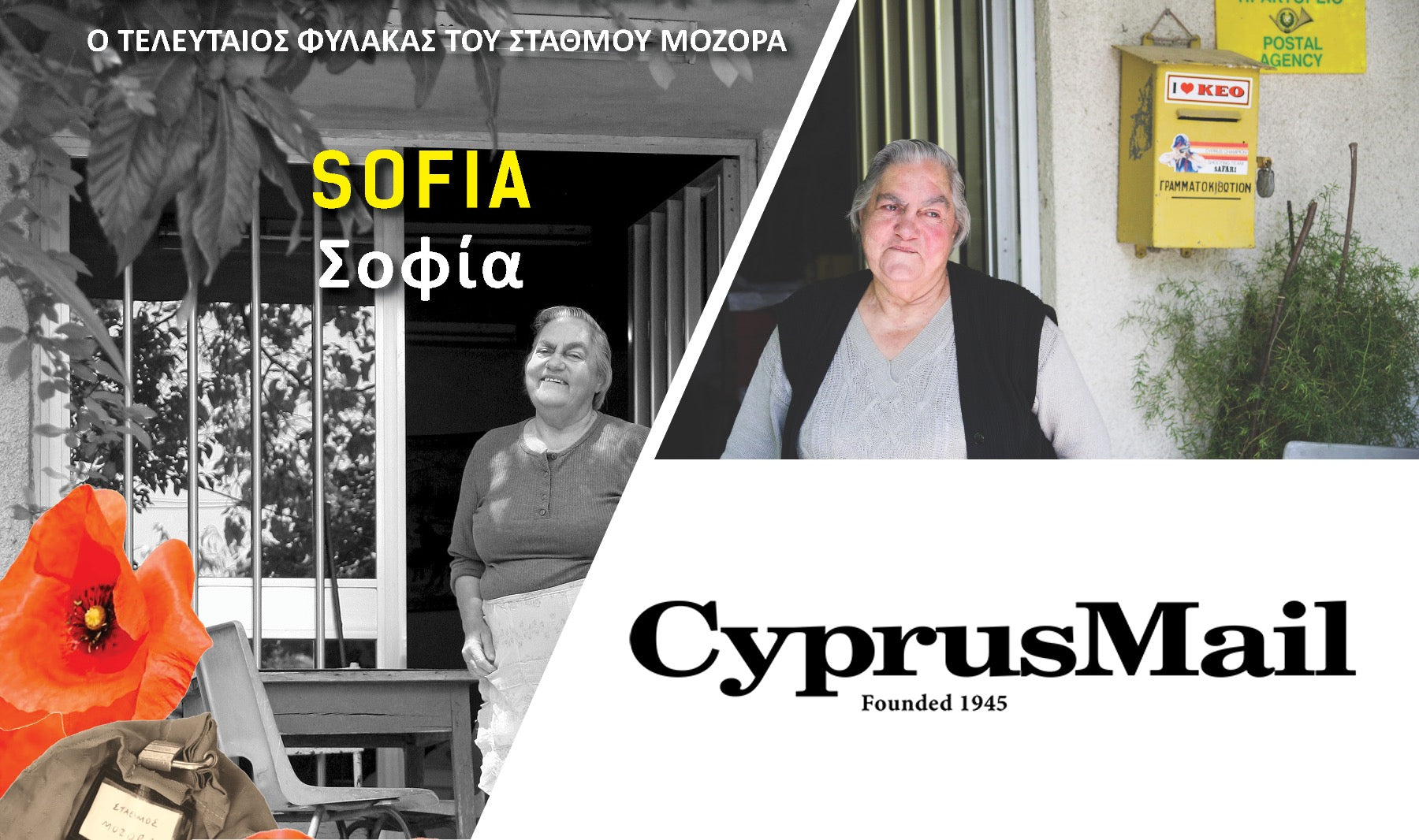 CYPRUS MAIL
Sofia, the last guardian of a quiet mountain corner
For 80 years, a single woman lived in a remote inn high up in the Troodos mountains. Her parents passed away, her siblings left for the city, and yet Sofia carried on alone. ALIX NORMAN hears more of her story, which has now been published
Sofia Mozoras got her first television in 1977, a landline in 1986, and electricity in 1992. Yet she was perfectly content, living alone in her own self-made 'Paradise' high in the Troodos mountains, until the day she died.
Sofia's life has been documented by award-winning photographer Falak Shawwa, long-time friend and admirer of this remarkable woman in Sofia: The Last Guardian of the Mozoras Station. It's an extraordinary read; 125 pages and photos of a life well-lived and a woman well-loved; of someone who "left an impression on everyone she met…
"Sofia was the aunt of my mother's friend, Elli Mozoras," explains the 42-year-old author. "The two would often travel up to her lonely Mozoras inn, close to Amiandos, to visit with Sofia. And from my early 20s, I went too. And kept going. Because there was a magic to Sofia that was simply captivating: her life had been hard, very hard. And yet she was, without a doubt, the most positive, contented woman I'd met."
A photojournalist with a host of accolades to her name, Kuwaiti-born Falak has been based in Cyprus since 1990. The author of the much-lauded Mahrooseh – a photographic anthology of Lebanese truck art, Sofia is her second book to date. It's also perhaps her most personal, in that the subject was a close friend and an inspiration.
"Sofia was fascinating," says Falak. "She lived her entire life in the middle of nowhere, at a wayside inn her father had built in 1924. And although we met in the 2000s, her life was still lived as if it were 1950: chores from sunset to dusk, self-sufficiency in terms of food, and always a kind word and a coffee for passersby."
Over the years and the visits, Falak began to document Sofia's daily life, first through the lens and later in words; her poignant interviews and candid photos detailing a life that turned with the year.
'What I pick depends on the season,' says Sofia in one of the interviews. 'In May, when the roses are in bloom, I wake before sunrise to make rosewater. At other times, I go to the forest for strouthoutia or wild mushrooms; for sage and mint leaves for tea; capers for cooking.'
It was an existence of 'work, work, work. I served the customers who came to the station, fed the animals, cooked, cleaned and lit the lamps one by one. The day was always full.' And yet, says Falak, Sofia was an incredibly happy woman; always kind and welcoming, even as custom at the inn began to dwindle.
"I think Sofia was very content with her life. She lived in harmony with nature; she never married, never drove, never used a mobile phone. And yet she was utterly satisfied with her lot. I remember her recalling her occasional visits to family in Limassol. 'I stay for one night,' she admitted. 'Then I must come back to the mountains, to my home.' She was utterly content with who she was, where she was, and what she had. There were no regrets in her life."
Although Falak first met Sofia when she was in her 60s, the older woman still retained the strength of character that had carried her through many hardships. "Sofia lost her mother at the age of 22, looked after her father until his death in 1974 – just one day before the invasion. He had worked in the Amiandos mine, transporting asbestos to Limassol port by carriage," Falak adds. "And on his journey, he would stop in a particular spot each time to rest in the shade and drink water from the mountain stream; in time, he bought this land, built his wayside inn, and named it Paradise. And it was there Sofia was born, serving travellers and their animals, taking care of family and land. It was a busy life, even as a child…"
'At the age of nine, I stopped going to school,' Sofia recalls in one interview. 'I just got tired of walking back and forth. So I stopped going, and my education came to an end.' But this lack of schooling never held Sofia back, says Falak; instead she learnt from her family, from nature, from the turning of the seasons. And, when her father died, Sofia was the automatic choice to take over both the inn and the postal service that bore his name.
"In 1953," explains Falak, "Sofia's father was appointed a rural postal agent, and entrusted with a postmark bearing his name – the only person in Cyprus to have such an honour. When he passed, his duties fell to Sofia: she became the final guardian of the Mozoras Post Office; helping collect and deliver letters from the surrounding villages."
Over time, as the rural communities emptied, the service was used less and less. And in 2018, with the death of Sofia, it all came to an end. "When Sofia passed away, it was the end of an era," says Falak. "Not just for the post office and the inn, but for a unique way of life.
"Today, I pass by the station and see it empty, abandoned. And it breaks my heart. But then I remember my countless visits and how, each time, I came away with a sense of peace in my heart. That peace," Falak concludes, "was all due to Sofia. She was a bastion of Cypriot heritage: strong and smart and self-sufficient. She showed me that the things we take for granted – our television and electricity and phones – are not necessary for true happiness. She was the most contented person I have ever known, and I miss her to this day. Hers was a way of life that had outlasted its time: joyful, simple, happy. And hers was a story that needed to be told."
Sofia: The Last Guardian of the Mozoras Station is available from publisher Rimal Books, as well as at the Soloneoin Book Centre and K.P. Kyricaou bookshops
By Alix Norman