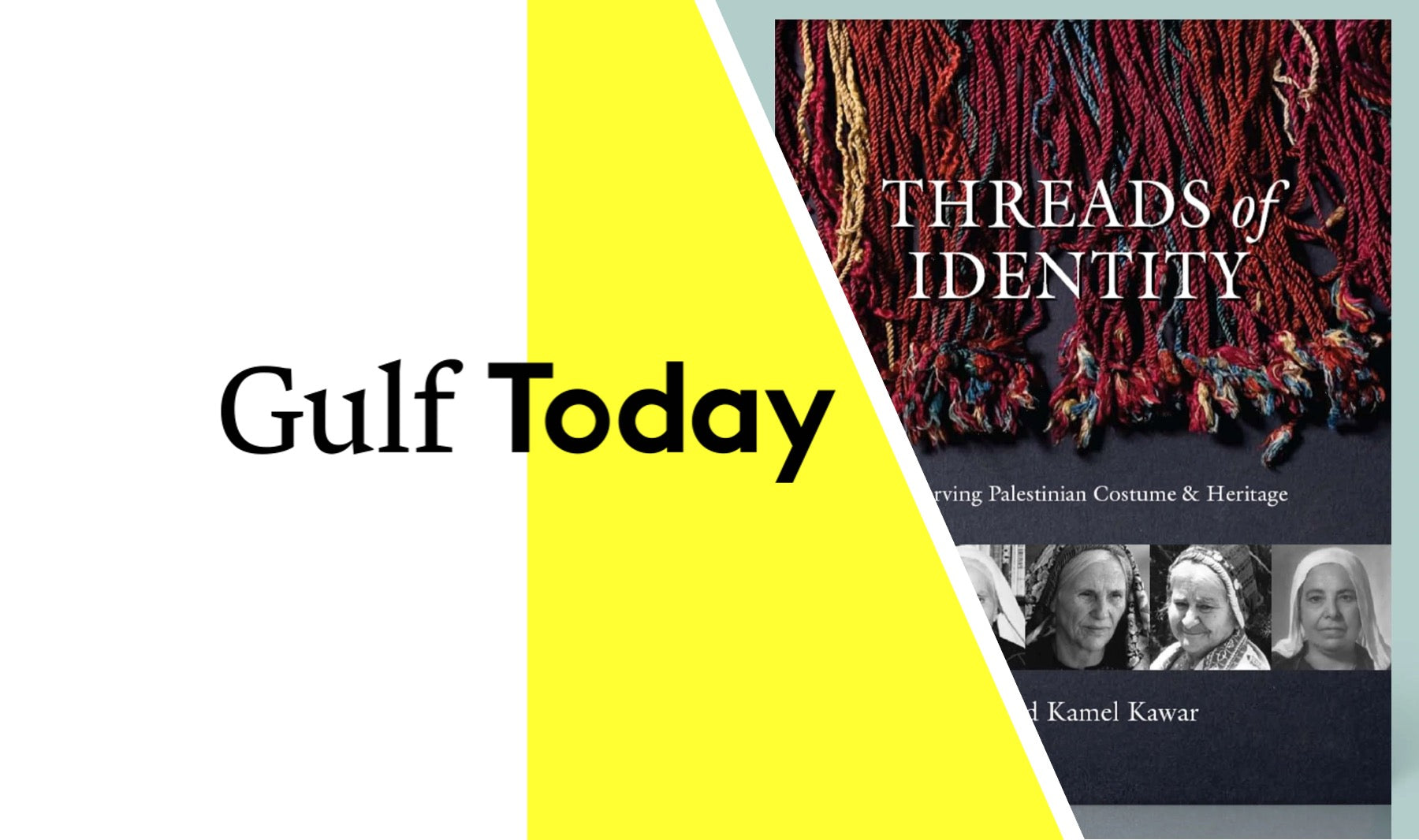 GULF TODAY
Preserving Culture
Widad Kawar is a woman of spirit and grace, a benefactor of the entire Arab world. She has spent more than half a century collecting traditional Arab costumes, jewellery, and household items, and displaying them in the countries of the Arab world, Europe, and Asia.
In January she opened the Tiraz Centre in Amman, built to house half her collection of 3,000 costumes and cultural artefacts. The current exhibition, dubbed "The Golden Threads of Bethlehem," includes the oldest Bethlehem dresses in the museum collection as well as brilliantly colourful later works. 
Costumes from Jordan are also exhibited, including a black creation three metres from top to bottom worn by women from the city of Salt by doubling over the material to provide an under-dress and over-dress.
She told The Gulf Today, "We are making a few special exhibits before the official opening which will display the unity of Arab dress."
Born in the West Bank town of Tulkarem before the establishment of Israel, Widad was brought up in Bethlehem and educated in the Quaker school in Ramallah. She took her first BA in sociology from Beirut College for Women (BCW) and a second in education from the American University of Beirut. She taught at a college in Bethlehem before marrying Kamel Kawar, a geologist and mining engineer from Nazareth and moving to Jordan.
"I grew more and more interested in heritage and looked up my friends from Bethlehem," she stated. She became hooked on traditional Arab crafts when the BCW alumnae club "decided to open a place where craftsmen could sell their wares. It was a success so we moved to larger premises and arranged exhibits in hotels."
She went with Kamel to Tuscon in Arizona where he had studied ground water. "This was far more sensible because Jordan had no oil and needed to discover sources of water." Widad took a course in museums and developed interests in anthropology and home economics.
Once they returned to Jordan she took up work in BCW alumnae and YWCA centres in Palestinian refugee camps where she began to buy Palestinian dresses.
Driven in 1967 by Israel from their homes in the three refugee camps in the West Bank town of Jericho, many women were compelled to sell their heavily embroidered national dresses.
Widad said, "I took copy books and wrote down information on all the dresses I bought, I started my life of taking notes. My family grew fed up with me as my kitchen was always full of women selling their dresses and telling me their stories. One piece took half a day. I met museum people, journalists, and students making research on Arab heritage."
She joined forces with Shelagh Weir who made a collection and did research for the now closed Museum of Mankind in London. Sibba Einarsdottir from the Women's Museum in Denmark who is cataloguing the museum collection, said, "Widad is a natural museum person."
Germany's ambassador to Jordan, Herwig Bartels, a collector of Turkish kelims, told Widad that she should no longer loan her dresses for fashion shows and receptions but put together a collection that could be displayed in Europe and elsewhere.
He became her patron and in 1987, arranged for an exhibition in Cologne. This involved the publication of her first hard cover book in German and French - Pracht Und Geheimnis or Memoire de Soie - and in a number of other languages.
The collection toured the world for 20 years, visiting France, Denmark, Sweden, England, Iceland, Switzerland, Japan Singapore and several Arab countries. Her latest major book is Threads of Identity, published by Rimal books in 2011.
The collection was originally from Palestine, Jordan, and Syria but when Arab labourers from other countries working in Germany expressed disappointment that costumes from their homelands were not included, Widad scoured the souqs of the Arab world for Yemeni, Saudi and other traditional costumes. "Egyptians were very happy. Yemenis came [to the exhibits] and returned with their families," she stated.
While her original collection focused on dresses from villages, she added city clothing, an "imitation of Ottoman dress," she stated.
Since most of her costumes were made in or before 1950, she researched how styles had changed and how women shifted from making dresses to embroidering cushions for their homes and for sale at craft shops. "Today our heritage survives on cushions and wall hangings."
Once her collection had returned to Jordan, "I wanted to give it a home. It had spent too much time in boxes," either in transit or storage. "The house next door was put up for sale. Kamel bought it and brought an engineer to make changes to house the collection. I looked for staff and found very enthusiastic girls who are interested in the subject. We will hold workshops for growing children and teenagers to connect them to and make them aware of their Arab heritage. We will also hold workshops for the international ladies' club which has expressed an interest in learning about the heritage of our countries."
While the museum has been a Kawar production from start to finish, Widad expressed concern over funding for the long run.
The handsome museum, built in white stone, is on two floors, exhibition halls above and work and storage rooms below. Here Sibba has been cataloguing the collection on her computer. The job "will never finish," she said, "because things turn up continuously. People give to museums when they see they will be taken care of, when they see their costumes and objects will be preserved."
Sorting, identifying and preparing the collection has been a monumental labour of love for all involved. The costumes have to be repaired, cleaned and enveloped in plastic bags where they are frozen for 10 days to kill fungus and mold, then allowed to defrost before opening the bags.
Sibba said that each dress is labelled but the stories of the dresses are not always recorded because the researchers have not yet managed to tackle Widad's notebooks.
Widad's latest plan is to blow up illustrations from one of her earlier books, Palestinian Embroidery: Traditional Fallahi Cross-Stitch, written with Tanya Tamari Nasir, and put them on a website where Palestinian women can follow the stitches and patterns.
When someone suggested that she should do this, she argued that Palestinians living in refugee camps don't have computers. Her interlocutor replied, "Yes, they do. Every family has a computer. Maybe more."
Widad has collected a number of awards for her work, including the King Hussein Medal and the Prince Klaus International Award for culture and development. The latest honour she received was the Directorate of Heritage Award presented by Abdulaziz Almusallam Alkhaaldi, director of Heritage and Cultural Affairs of the Government of Sharjah. This award moved her greatly.
"Sharjah is the only city which responded to our appeals for help. We sent letters to many places but only Sharjah responded."
____________________________________________
The author, a well-respected observer of Middle East
affairs, has three books on the Arab-Israeli conflict
Reflections from Palestine
Reflections from Palestine As I am a person who happened to face war and lived the era of occupation and the Intifada: I always say and will keep saying: "Definitely every Palestinian woman has a s...
Read more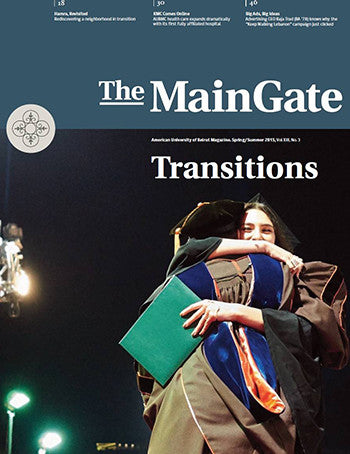 William Yale
William Yale was born into the Anglo-American power elite in the late nineteenth century. After graduating from Yale University (founded by one of his forebears), he joined the Standard Oil Compan...
Read more