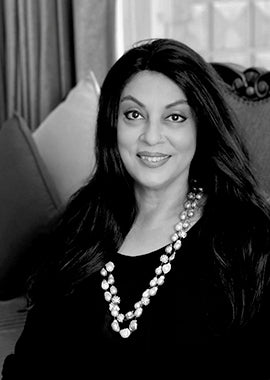 Anita Shirodkar
An alumna of Sophia College Mumbai, Anita graduated with a bachelor's degree in Applied Art and went on to pursue a career in advertising. She spent twenty years as an art director with Trikaya Grey and Mudra Communications in Mumbai, and Lintas and TD&A in Dubai, selling everything from ice cream to face cream before she took to writing fiction in 2012.
After finishing her contemporary novels Secrets and Second Chances, Nights in Pink Satin, and Adriana's Smile, she penned an Indian mythological fantasy trilogy, titled Guardians of the Blue Lotus. The books are called Aryavir, Sitanshu and Ambuj, and they share the stories of fictitious kings and warriors in a creatively conjured-up universe, paying reverent homage to India's magnificent mythological heritage.
As the creative consultant to a destination and event management company, Anita writes content for their website and authors a newsletter related to the diverse cuisines of the different states of India. A passionate cook, she frequently travels to various parts of the world, doing what she loves most – meeting new people and experiencing new cuisines. Anita is currently based out of Mumbai and Dubai.