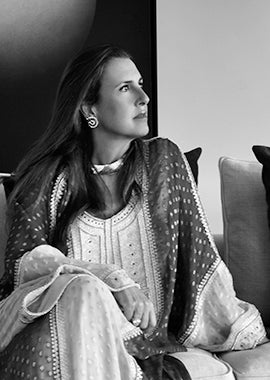 Gaia Moncada di Paterno'
Palermo is where Gaia Moncada di Paterno' was born and where her strong roots belong.
Palermo was only part of the first four years of her life, after that her life has been around the world. Tripoli, Tokyo, Rio de Janeiro, Harare, Sofia, London and now Dubai; all these nations with their diverse cultures have had a big impact on her personality and lifestyle.
She attended the University of Architecture of Rome in Italy, and then discovered the world of interior design under the mentorship and teaching of Architect Toni Facella Sensi. She started, in partnership with her great friend Giampiero Ruzzetti, an office of interior design and real estate in 1994 in Rome. In 2000 she moved to London where she opened her real estate, refurbishment and interior design office.
A new professional chapter started in 2013 when she moved to Dubai: fashion.
Gaia designs: her reinterpretation of Japanese heritage kimono with luxury silks, and established in the UAE her fashion brand: Gaia Moncada Italian Design.