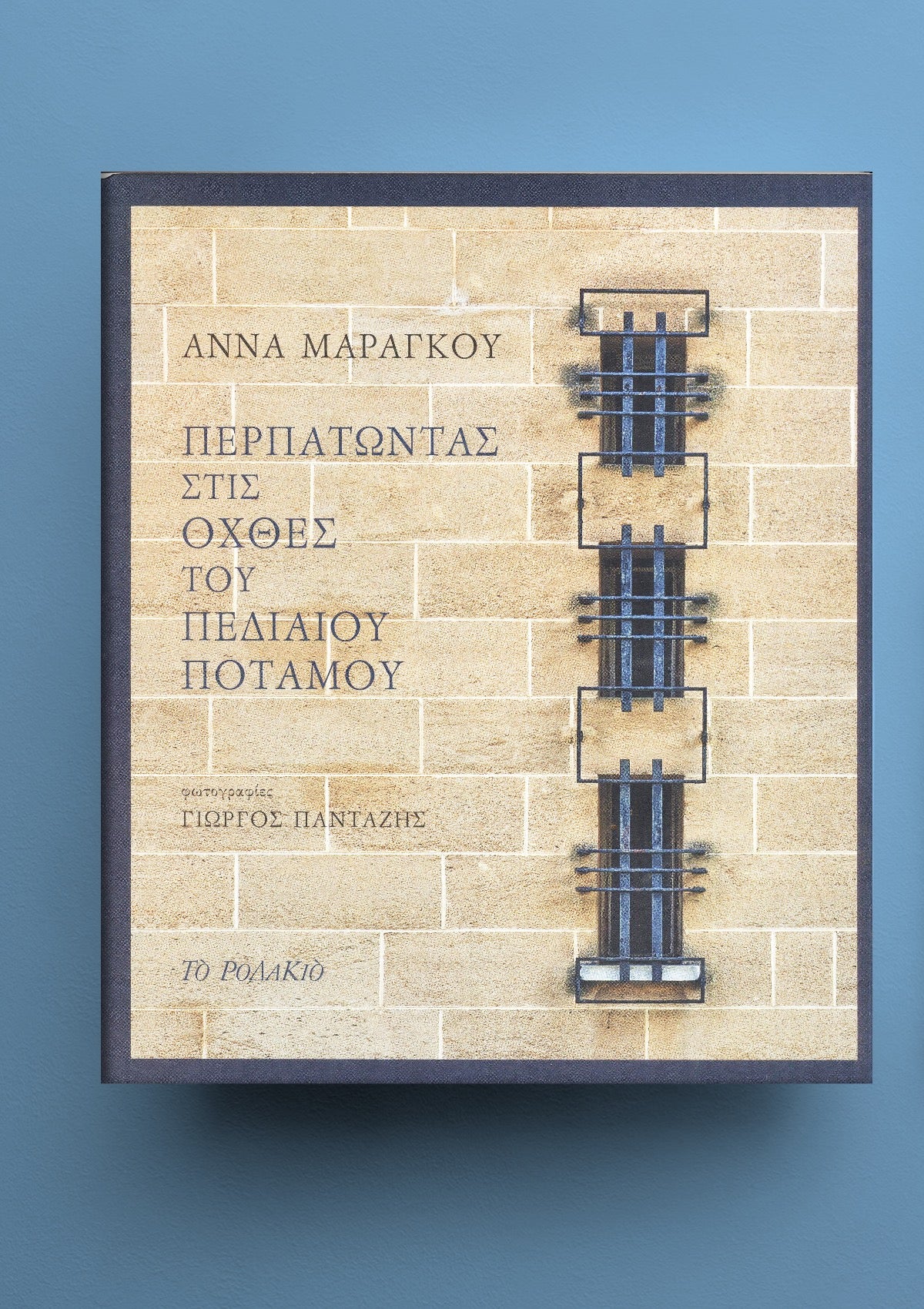 Περπατώντας στις Όχθες του Πεδιαίου Ποταμού
Sale price

€20.00
Regular price
(/)
---
Το βιβλίο αποτελείται από 31 ιστορίες για τη Λευκωσία, τόσο της ελεύθερης όσο και της κατεχόμενης. Είναι ιστορίες ανθρώπων, Ελληνοκυπρίων και Τουρκοκυπρίων, που συνδέονται με τους χώρους και τα μνημεία της πόλης. Είναι ο συνδετικός κρίκος που ενώνει τη διαχρονική ιστορία μιας πόλης μέσα από τις αφηγήσεις των κατοίκων της.

Η συγγραφέας, αρχαιολόγος και ιστορικός τέχνης, γνώστης της σύνολης ιστορίας της Λευκωσίας περπατά νοερά στις δύο όχθες του Πεδιαίου ποταμού που διέσχιζε κάποτε την πόλη, εκεί ακριβώς όπου περνά σήμερα η Πράσινη Γραμμή. Είναι οι αφηγήσεις της που αποκαλύπτουν στον αναγνώστη άγνωστες πτυχές της ζωής της πόλης στο μακρινό και κοντινό παρελθόν.
Είναι αυτές οι ιστορίες ανθρώπων που συνθέτουν και ενώνουν μια πόλη.

Τις ιστορίες συνοδεύουν όψεις της πόλης μέσα από το φακό του Γιώργου Πανταζή, λεπτομέρειες, στιγμιότυπα, αγγίγματα και περάσματα φωτός, αισθήσεις χρωμάτων. Είναι ο δική του ματιά, μέσα από την ιδιότητα του ως αρχιτέκτονα, που εξυψώνει την πόλη και την απογειώνει. Τίποτα δεν είναι στατικό στην τέχνη της φωτογραφίας του Πανταζή…από την απόχρωση του πωρόλιθου μέχρι την πατίνα του χαλκού.

Ένα «ειρηνικό βιβλίο» το αποκάλεσαν οι εκδότες, ένα βιβλίο με 31 ιστορίες αγάπης για μια πόλη που θέλει ακόμη να ελπίζει.

Από τον πρόλογο του βιβλίου:
Εύλογα διερωτάται κανείς πώς περπατώ στις όχθες του Πεδιαίου ποταμού, αφού αυτός δε διασχίζει τη Λευκωσία όπως παλιά. Εκεί που περνούσε κάποτε ο ποταμός βρίσκεται σήμερα η πράσινη γραμμή, η διαχωριστική γραμμή που κόβει με μαχαίρι την πόλη στα δυο εδώ και μισό αιώνα.
Όμως «του ποταμού εν του γελάς τζαι πιάνει το ταμάχιν* του πίσω»… έλεγαν παλιά.
Εύχομαι κάποια μέρα να ξανακατέβει ο Πεδιαίος ορμητικός, όπως τότε, το 1330, όταν πλημμύρισε και τα νερά του έφτασαν μέχρι την πόρτα του Αγίου Γεωργίου των Ορνίθων. Τότε θα πάρει μαζί του βαρέλια, διαχωριστικές γραμμές, πολυβολεία, σάκους άμμου, θα καθαρίσει τη γη και θα πάρει πίσω το ταμάχι του.
Μέχρι όμως να φτάσει εκείνη η μέρα η πόλη μου είναι χωρισμένη στα δυο.
Η «ποδά» μεριά είναι η δική μας, η ελεύθερη, η «ποτζεί» μεριά είναι η κατεχόμενη, η ανελεύθερη. Στη μνήμη του ποταμού, και αψηφώντας τη γραμμή, περπατώ εκεί και αναπολώ όλη την πόλη μου.
Walking on the Banks of the Plain River
The book consists of 31 stories about Nicosia, both free and occupied. They are stories of people, Greek Cypriots and Turkish Cypriots, connected to the sites and monuments of the city. It is the connecting link that unites the timeless history of a city through the narratives of its inhabitants.

The author - an archaeologist and art historian - knowledgeable about the entire history of Nicosia, walks along the two banks of the Pediai river that once crossed the city, exactly where the Green Line passes today. It is her narratives that reveal to the reader unknown aspects of city life in the distant and recent past. It is these stories of people that make up and unite a city.
The stories are accompanied by views of the city through the lens of Giorgos Pantazis, details, snapshots, touches and passages of light, sensations of colors. It is his own look, through his capacity as an architect, that elevates the city and takes it off the ground. Nothing is static in the art of Pantazis photography...from the hue of the pumice stone to the patina of the copper.
A "peaceful book" the publishers called it, a book of 31 love stories for a city that still wants to hope.
From the foreword of the book:
It is reasonable to wonder how I walk on the banks of the Pediai river, since it does not cross Nicosia like it used to. Where the river once passed is today the green line, the dividing line that has cut the city in two with a knife for half a century.
But "when you laugh at the river, it catches its tamachin* back"... they used to say.
I wish that one day the Pedeian rush will come down again, like then, in 1330, when it was flooded and its waters reached the door of Agios Georgios of Ornithoni. Then he will take with him barrels, dividing lines, machine guns, sandbags, clear the land and get his piece back.
But until that day arrives, my city is divided in two. The "foot" side is ours, the free one, the "foot" side is the occupied, unfree one. In memory of the river, and defying the line, I walk there and reminisce about my whole city.

Anna Maragou is an archaeologist and art historian. Graduated from the Catholic University of Louvain in Belgium (BA), with a Masters' degree in contemporary history from the University of Cyprus. She is a writer of non-fiction books, scripts, theatre plays and children's stories.
Size: 170 x 200 mm
203 pages
Paperback
To Rodakio, 2018
Language: Greek
ISBN: 9786185248437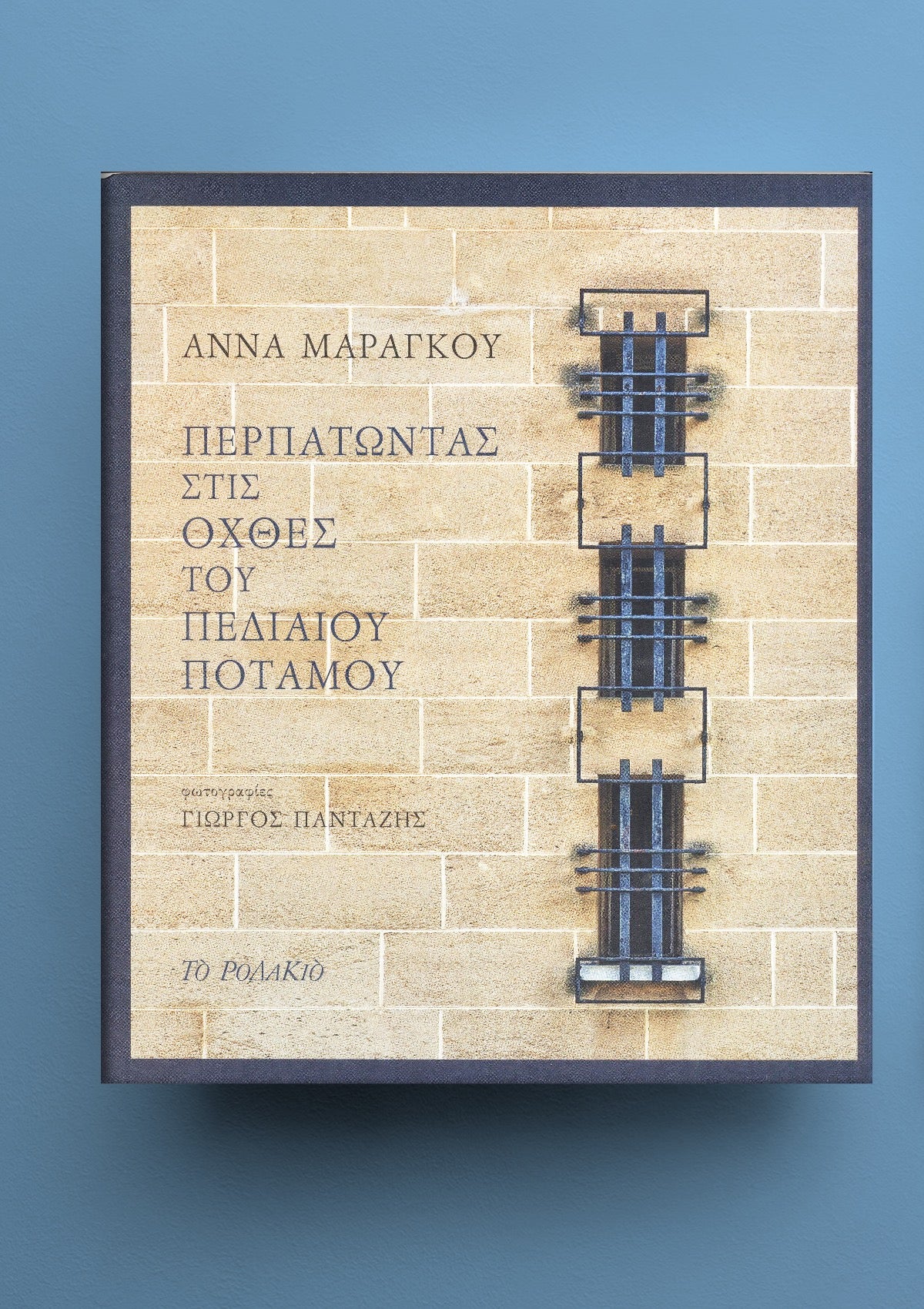 Περπατώντας στις Όχθες του Πεδιαίου Ποταμού
Sale price

€20.00
Regular price
Choose options