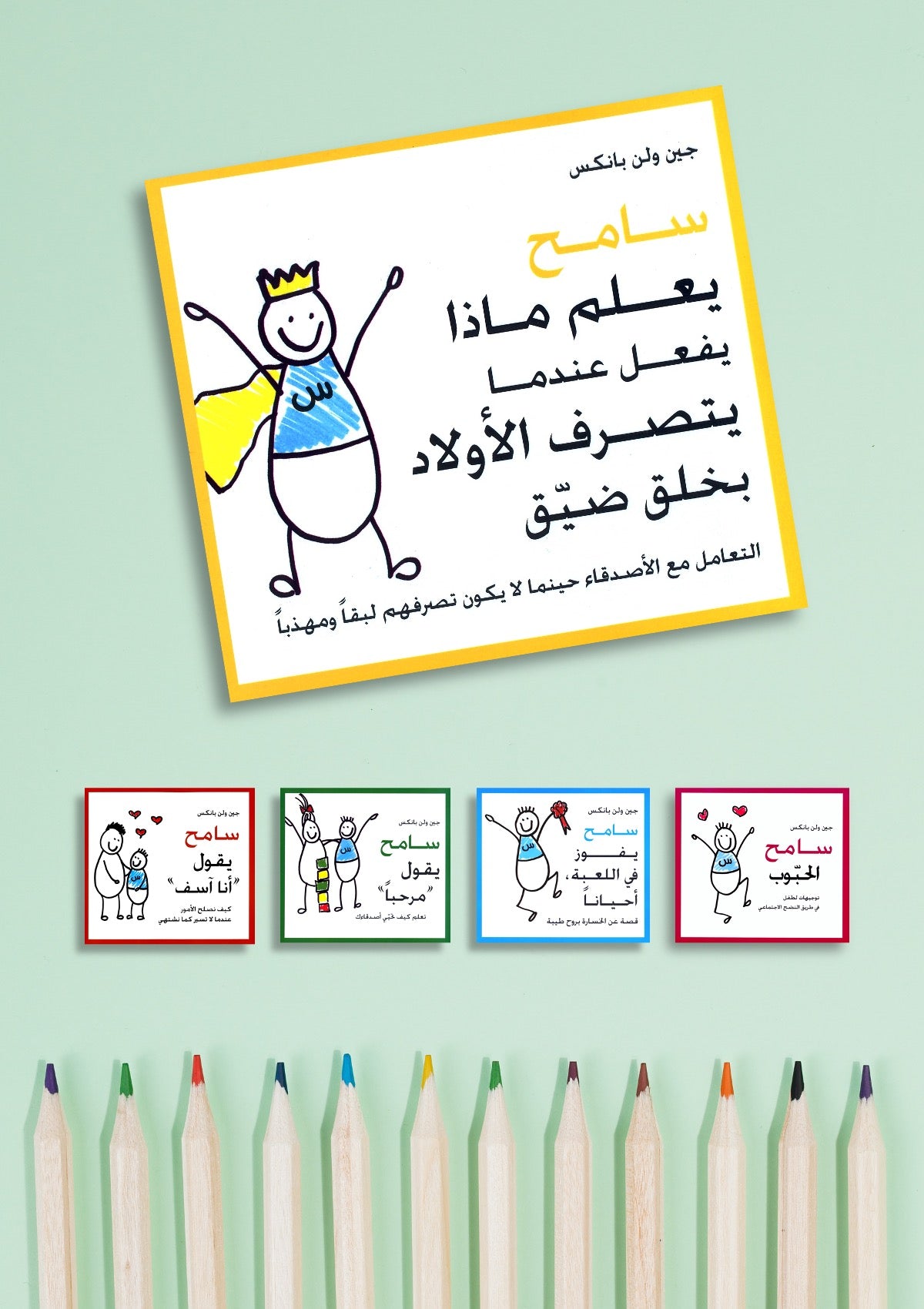 Sameh Knows What to Do
Sale price

€5.00
Regular price
(/)
---
Vibrant, colourful and lively, this book's positive messages and advice are ideal for young children wanting to understand social situations or how friendships work.
Sameh is a very talented boy. He can do lots of neat things, like tricks, tumbles and freaky faces. One day, Sameh decided to impress his friend Sarah with a super-duper somersault on the couch. Sarah said: 'So?'
In Samah Knows What to do When Kids Act Snitty, lovable Sameh finds out why his amazing feats of greatness are sometimes met with snide or snitty responses. He learns that when kids are snitty, it does not mean they don't like him, or that his tricks are boring, but that they haven't yet learnt how to be gracious and polite.
Human social behavior is sophisticated and complex. While we can teach our preschoolers the simple action-reaction emotions of happy, sad, fear, and anger, how do we approach less predictable social feedback such as sarcasm, indifference, and spitefulness, to name a few? Desirable or not, these are among the many responses our children will face in their lifetime. While predicting and understanding them may be difficult, if not impossible, our children must still learn to cope with them. In Sameh Knows What to do When Kids Act Snitty, Sameh eagerly anticipates an applause for his amazing feats, but instead is met with snide and standoffish responses, often typical of young children. Sameh is perplexed and offended by the aloofness of his peers. Naturally inclined to perseverated over such illogical comebacks, Sameh would usually react with hurt or hostility and aim to pester his audience into the applause he was expecting. This behavior, of course, would only exacerbate the situation and ultimately botch the play date. In this story, however, Sameh recognizes his friends' behavior as snitty and not a reflection of his greatness. He learns to simply accept the rebuffs and move forward, free from the need of his friends' approval.
155 x 178 mm
32 pages incl. color illustrations throughout
Paperback
Rimal Books, 2010
Language: Arabic
ISBN: 978 9963 610 69 3

The Sameh Series
'These books are beautifully yet simply illustrated and written in an appealing child-friendly typeface. They are suitable for reading to children aged 3 years+, or independently by 5-8 year olds...This lively series is definitely a valuable resource for parents and their children, speech and language therapists of all levels of expertise, teachers and other health professionals enjoyed at home, school or in the clinic, and be particularly useful to those working closely with young children who have social communication difficulties such as autism and other spectrum disorders and syndromes.'

The books are very appealing, using cartoons style illustrations. They deal sensitively and in a light-hearted way with some of the problems young children have and are short enough to sustain attention. Highly recommended for the positive messages and the matter-of-fact style.' - SEN Magazine

'A wonderful way to guide a child through the complex social world of childhood' - Eileen Costello, author of Quirky Kids

'Insightful, engaging, and humorous stories designed to help teach children social skills and feel good about themselves ' - Stephanie Loo, M.Ed., Asperger's Association of New England
The Complete 5-Book Set

Lovable Sameh
Sameh Knows What to Do When Kids Act Snitty
Sameh Says 'Hi'
Sameh Wins the Game, Sometimes
Sameh Says 'Sorry'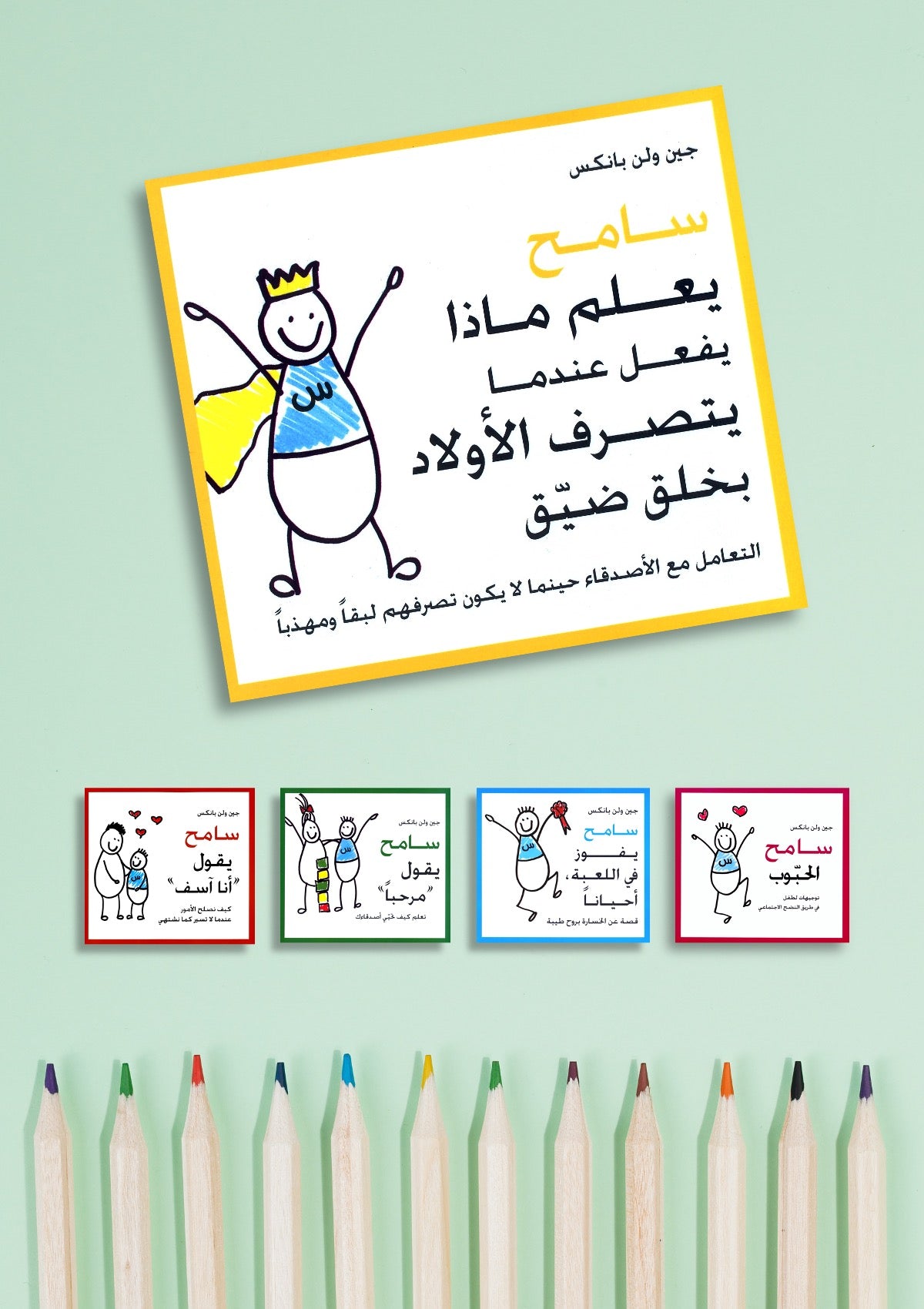 Sameh Knows What to Do
Sale price

€5.00
Regular price
Choose options