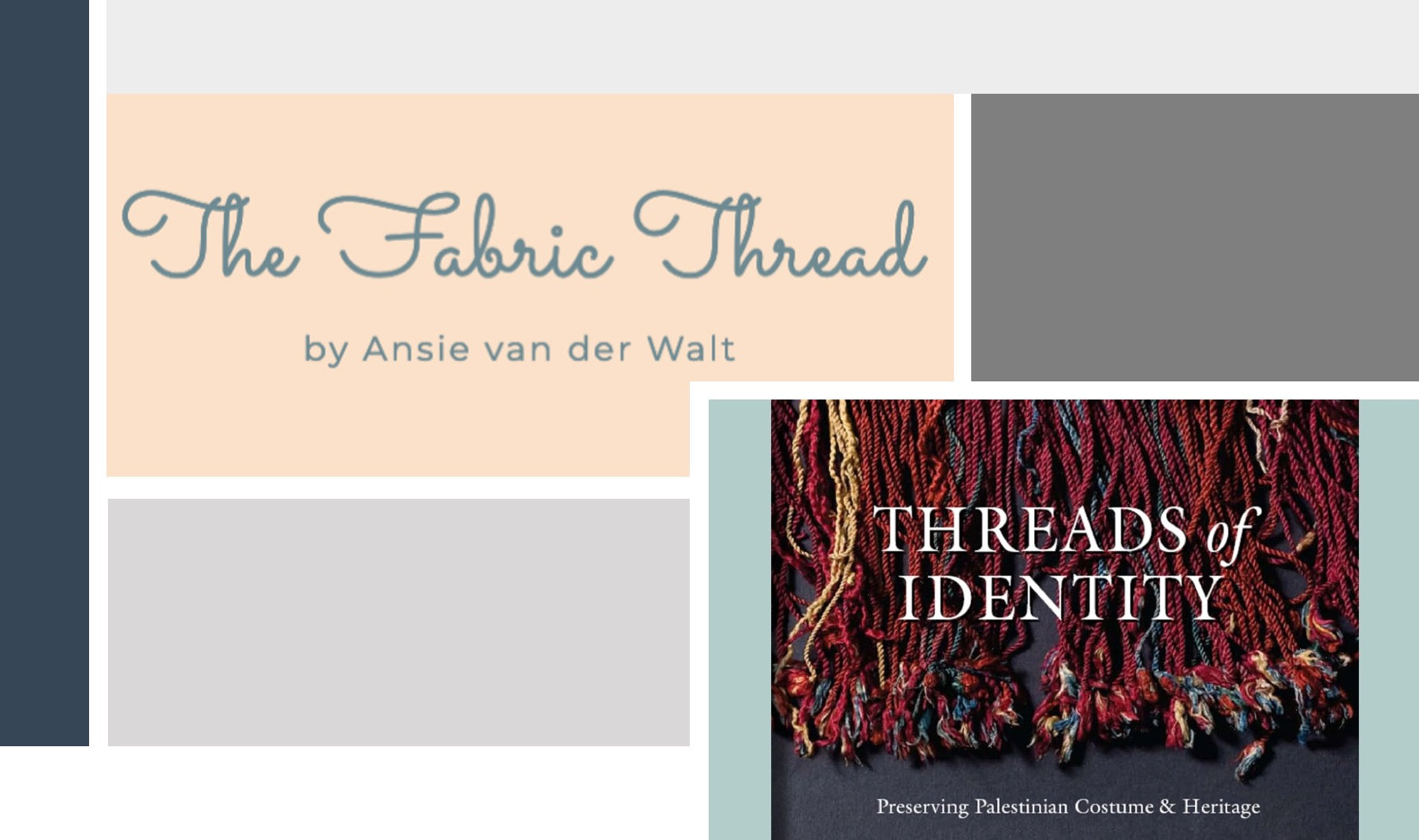 FABRIC THREAD
Threads of Identity – Widad Kamel Kawar
As the title suggests, this is a book about identity. It is filled with personal stories, anecdotes, history and textiles. The images in the book reflect that. Personal photos in black and white, professional photos of textiles and artefacts, photos of people in everyday living conditions, and styled museum display images.
Although there are a few diagrams and sketches, this is not the focus of the book. It contains one detailed map of Palestine, marking all the villages and towns mentioned in the book.
This book is a visual feast. Most spreads have more photos than text, perfectly illustrating the personal stories and descriptions of the Palestinian textiles and lifestyles.
Introduction:
Widad Kawar is a powerhouse of a woman who almost singlehandedly ensured the preservation of the Palestinian textile heritage. She is the director of the Tiraz Centre in Amman, Jordan and the owner of the biggest collection of Palestinian dress and jewellery in the world.
"People who see my collection for the first time usually ask me: When did you start, what made you collect, and how did you go about amassing this large collection? Few people really understand why someone starts to collect. All I remember is that I felt the need. The Israeli occupation of Palestine angered and frustrated me. Collecting turned my anger into a challenge and achievement. It served as a therapy to help me deal with the trauma I felt, although I did not realise it at the time."
This book is about the stories behind Widad's collection. The women who made it, the people who wore it, the villages they lived in, the lifestyles they led before it all changed, and the Palestinian way of life disappeared forever.
It is also the story of Widad Kawar and her collection. How it came to be, how it grew and the impact it has on future generations, historical narrative and cultural heritage studies.
Content:
The book is divided into two sections.
Part 1 is the story of Widad Kawar, the author and collector, the story of the collection itself and its place within the wider environment of textile conservation, museum studies and heritage preservation.
Part 2 is all about the origin of the collection. It starts with a map of Palestine, marking all the villages and towns where the items originated from. Eleven chapters look at different regions in detail, describing and illustrating the history, the unique culture, and the textile traditions of each place. Historical photos, personal stories and detail descriptions of style, design and cultural influences gives insight into each area's unique dress styles, textiles and embroidery designs.
The last chapters look at the current state of Palestinian embroidery and the post-occupation influences that impact its use and designs. Issues like displacement, refugee camps and protest art have changed traditional Palestinian embroidery, but it has also created a new style, tradition and culture.
The last section of the book includes a glossary, reading list and index.
Conclusion:
As an embroiderer with no connection or personal knowledge of Palestine or Palestinian people, I've always loved Palestinian embroidery. As a reader, researcher and writer, I've known about Widad Kawar, her collection and the Tiraz Centre. I've read other books about Palestinian embroidery – technical books, history books and embroidery books, but it had little or no information about the people who made, worn and lived with these embroideries and fabrics over generations.
It is a thick, heavy book, which is expected, as it carries the weight of a culture and tradition that does not exist anymore. It is heavy with personal stories, intimate photos, and exquisite needlework. The book has a kind of aura around it as if it has a life of its own. As if it is more than just pages but rather a life force, carrying the Palestinian culture into the future.
It tells the story of Widad herself and her life-journey to becoming the caretaker of a stitched culture. It tells the stories of the many women who stitched garments for themselves and their loved ones as part of their everyday life, long before they knew about displacement and loss. It tells the stories of endurance, survival, loss and sadness, but also of joy, love, family and abundance.
It is a beautiful book and a worthy addition to any embroidery, textile, culture, or travel library.
Book Review by Ansie
*source link
نوّارة - Nawwara
نوارة، سيّدة القطن: هذا ليس كتاب، إنّه نافذة على الكون كاتبة ورسّامة، ناقدة أدبيّة وفنيّة، ميموزا العراوي التي وقّعت خلال أمسيتين متتاليتين (25 و26 كانون الثاني، يناير) كتابها الثالث "نوارة" في رحا...
Read more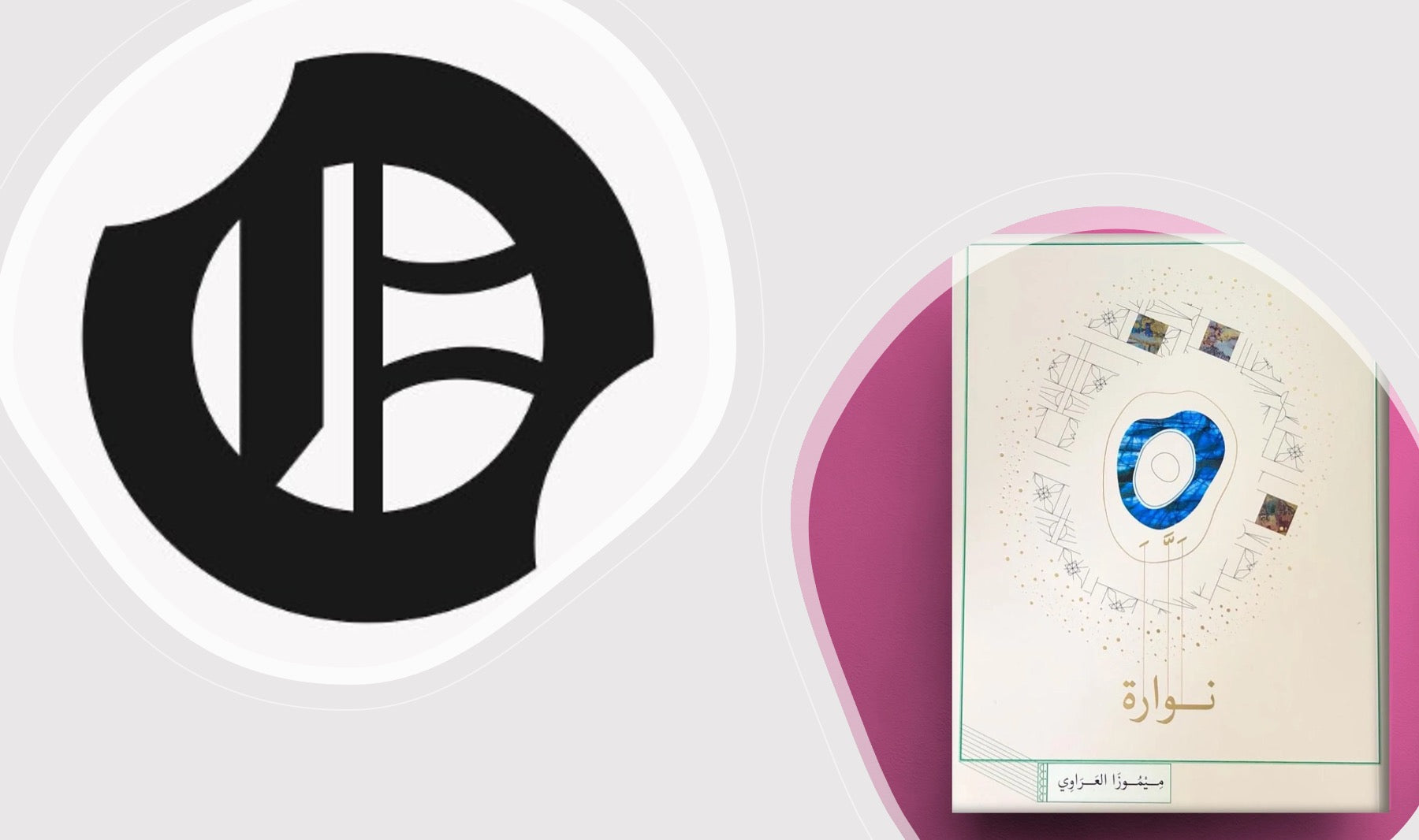 نوّارة - Nawwara
Les champs multiples de Mimosa el-Arawi L'artiste de la semaine Son 3e opus, « Nawwara », vient de naître après huit longues années de gestation. L'artiste pluridisciplinaire y met son concentré d...
Read more